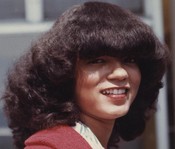 Mrs. Sharon Ann Buchanan of Stone Mountain, GA, passed away Thursday, August 23, 2012.
An INROADS/Pittsburgh alum, Sharon joined our organization in 1984. A high honor graduate of Duquesne High School, she attended and graduated from Penn State University where she majored in accounting. During that time she met her husband-to-be, INROADER Danny Buchanan.
Having earned her BA in Accounting from Penn State, Sharon then earned a Bachelor's Degree in Nursing from Midlands Technical College, Columbia, S.C. and was employed as a registered Psychiatric Nurse at Peachford Behavior Hospital, Atlanta. Ga.
She is survived by her loving husband of 26 years, Dan Buchanan, and her daughter, Danielle DaVida Buchanan.